Today's point of sale (POS) systems can do much more than put a sale through. Cloud-based POS software is capable of managing a wide range of business operations, both at the frontend (the till) and backend (your office computer).
Which are the must-have POS features, though? What should you look for in a till system?
The answer depends in part on whether you are a retailer, food business or provide some other kind of service.
Many POS functions are included in most till software, but some are specific to the industry you're working in. Usually, there's a distinction between hospitality and retail software in order to make the system more efficient.
Let us have a look at the top POS features you should be looking for. The last section lists functions specific to restaurant EPOS, while the rest apply to most POS systems – though sometimes more specific to retail than other sectors.
Checkout
1) Menus and action shortcuts
The jewel of a POS system is the default touchscreen menu you're presented with at the till. The layout, buttons and availably features determine:
What you're capable of doing at the till point
How quickly you can process sales and other actions
The physical interaction with the screen
In the old days, you interacted with a till via push-buttons – which is still the case with cash registers – but since POS systems started functioning on touchscreens, the design and selection of buttons has been completely down to the POS software.
When you look at POS functions, take a careful look at the main till interface:
Are products laid out in an intuitive way (e.g. grid view of images, ordered list of items, helpful colour coding, etc.)?
Is there a search field for looking up products quickly?
Are the most important actions available from the main screen, or do you need to tap several times to access them?
Are font sizes big enough to read easily? Does the colour scheme give you a headache? Buttons large enough to tap easily?
Can you customise the button layout and decide what functions to display and hide?
Do you tap-to-add products to a bill, or can you enter custom product descriptions with custom pricing?
Usability is important on a touchscreen, particularly with bigger teams and high staff turnover, as you want employees to learn the system quickly, reduce the likelihood of mistakes, and have a speedy checkout experience. To get a feel for it first-hand, we recommend making use of any free trials before committing to a POS system.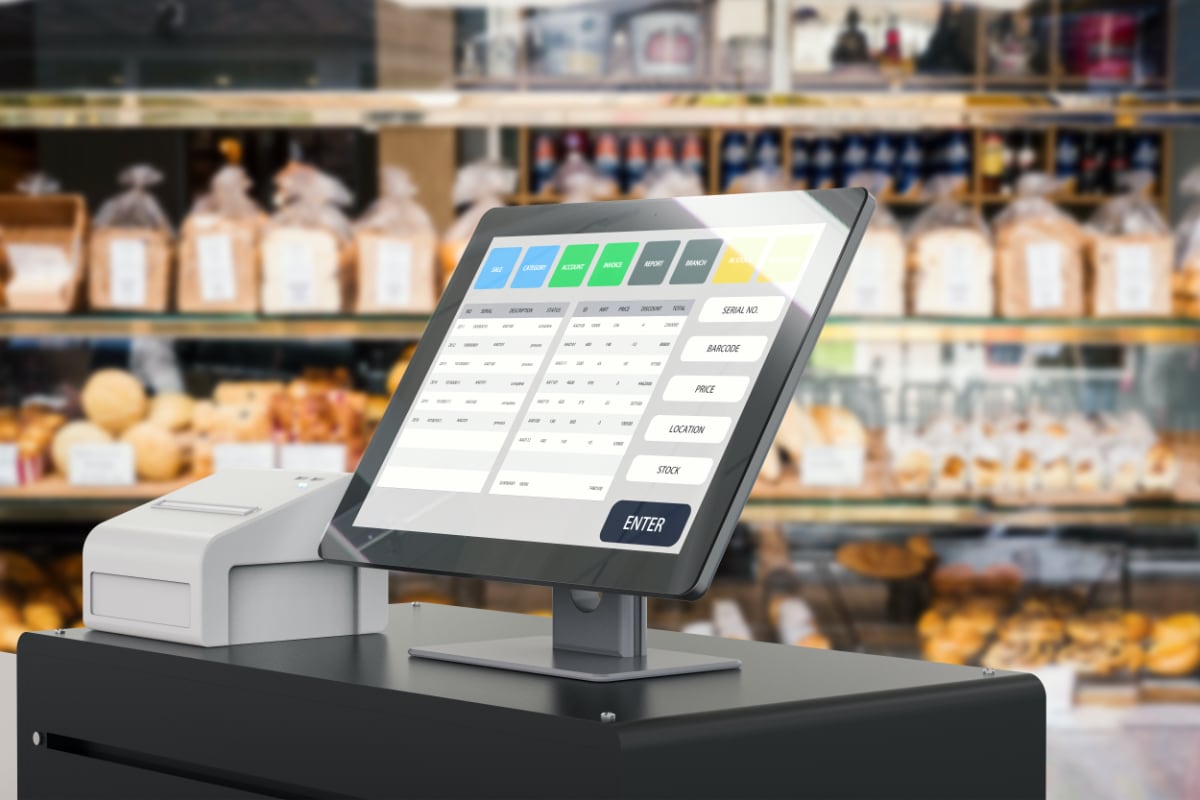 The touchscreen POS interface is crucial to the experience and efficiency of a till.
2) Discounts and promotions
All POS systems should allow you to apply a basic discount to transactions. As a minimum, you should have the option to set discounts that can be added manually at checkout (e.g. 20% Student Discount, £5 Off Sales Items). More advanced till systems let you preconfigure promotions for a set period, such as a 'Buy One Get One Free Happy Hour' offer between 5pm and 8pm on weekdays.
Discounts can usually be applied to individual items or whole transactions. In an advanced system, you can specify which items can have a particular discount.
3) Sales prompts
Some POS systems allow you to trigger custom messages during transactions for certain products (e.g. "Ask customer if they want batteries for it" triggered when you add an electrical item to the bill). This can help increase sales and prevent issues if the customer later realises they forgot to buy the add-on needed for a product. Such sales prompts are not that common in cheaper till systems as it is not considered essential.
Payment options
4) Cash
Every till system should be capable of accepting cash, but you might have to switch it on in settings first. You should be able to type how much was given in cash, although a selection of popular amounts are shown so you don't have to manually enter if someone gives you that amount. When you confirm the amount received, the till should display the total to give back to the customer.
5) Integrated card payments
All POS systems should be able to record card payments, but card processing is in many cases not integrated out-of-the-box with POS software.
If a card has been processed on a card terminal that's not linked to the POS software, you have to manually enter the payment amount on the card machine, then confirm on the POS screen when the card payment was successful.

Integrated card payments automate transactions so that when you pick cards as payment method in the POS software, the transaction amount will automatically show on the card terminal, then communicate back to the POS software to confirm when the payment was successful.
It varies which card payment companies can integrate with which POS providers, and some integrations can cost extra.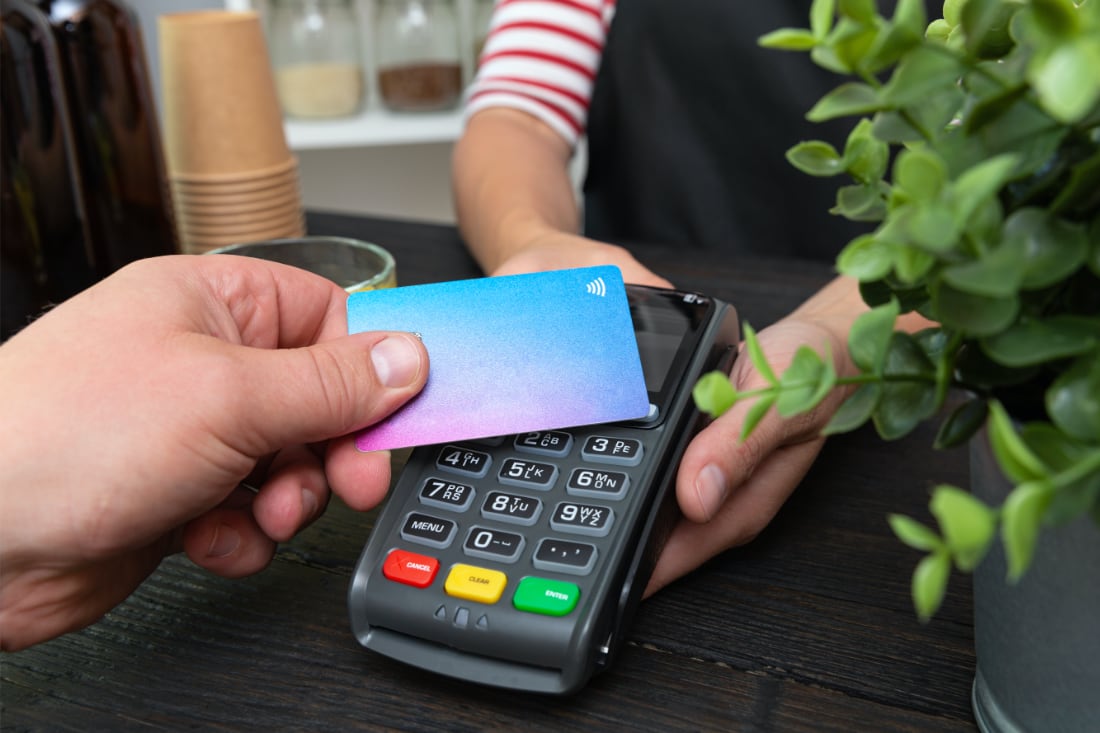 Does the till sync with a card machine, or do you have to enter transactions manually on the card terminal?
6) Gift cards
The ability to sell and accept gift cards tend to be included on pricier POS subscriptions, or it is an add-on feature costing extra. POS systems may sell gift cards in a digital format via email, or give the option to order a stack of cards to sell in-store.
7) Other payment methods
A POS system may give you options to record other payment methods than cards, cash and gift cards. This could be a voucher (similar to gift card, but promotional rather than provided as a gift), manual card entry (for payment cards in a POS system with integrated card processing), payment card on file (retrieved through customer library with saved card details), cheques, store credit vouchers, invoicing, payment link and other methods recorded manually in the POS app.
8) Split bills vs. split tenders
Splitting the bill is mainly relevant to restaurants where people tend to pay separately for their own food from a shared group bill. This produces individual receipts for the particular items paid for by individuals. It varies how advanced split bills can be. For example, you can split the amount, divide an itemised bill by product, or divide by an equal proportion of the bill, e.g. 50/50 between two people.
In retail POS, splitting the bill is not so relevant. Instead, you should be able to split the tender so you pay some of the amount in e.g. cash and put the rest on a credit card. This produces one receipt for the whole transaction, as opposed to split bills that provide separate receipts for each payment.
9) Partial payments and layaways
Do you accept deposits for an item? Not all POS systems allow you to accept a partial payment of a product with a fixed price, but some have a layaway function for this purpose. This is especially relevant for customer orders or when someone wants you to reserve an item and come back later to pay the rest of the amount in full.
10) Receipts
Modern POS systems should be able to send itemised email receipts as the bare minimum, sometimes giving the option to send a text receipt to a phone number. Furthermore, you should be able to link the system with a compatible receipt printer for paper receipts. It varies which printer models are compatible with each POS system, so if you have a printer already, check that the software supports it.
11) Refunds
Refunds are a necessary feature for any business aiming to provide a good customer service. To refund a payment, a POS system may require you to search for the relevant transaction in a Transactions section and pick the item or amount to refund from the recorded payment. Advanced POS systems with a barcode printed on each receipt can let you scan the barcode to fetch that transaction easily rather than search manually.
Not all POS software can let you add a reason for the refund. Whichever way the customer paid, it is normal for a POS system to request it is refunded in that same way, and on to the same payment card if that's how it was paid for (which requires the card to be present for the refund).
12) No sales and in/out expenses
A cash drawer usually opens automatically when you process a transaction if it's connected to the till system. It might be the only way to open it for an employee, but what if they need to take out cash for a purchase for the shop? Or out the change and expense receipt back in the cash drawer after that business purchase? Or simply check something in the cash drawer, count the cash float, etc.? This requires a feature to open the till drawer, either through a No Sale, Cash Out/In or similar options in the software.
Inventory management
13) Product categories
Product categories help you find items quicker, sort inventory, organise food menus and apply advanced settings related to discounts etc. All POS systems should have some kind of product categories, which may be colour-coded too. Once you have the relevant categories, such as Hot Drinks, Sides and Mains in a coffee shop, you can categorise individual products under one of them, e.g. Americano under Hot Drinks.
14) Attributes, options, variants and modifiers
Apart from wider categories, the following may be applied to individual products:
Attributes – product characteristics, e.g. Size, Colour, Type
Options – choices within each characteristic, e.g. Black, Blue and Red within the Size attribute
Variants – the code or identifying label of a product based on chosen characteristics, e.g. a blue medium jacket can have one SKU code that's different from a small red jacket.
Modifiers – option that changes the composition or/and price of the product, e.g. "with cream" can add 20p to the price of a latte
It varies which of these are included in a cheap POS system, but all should be included in some form in pricier EPOS.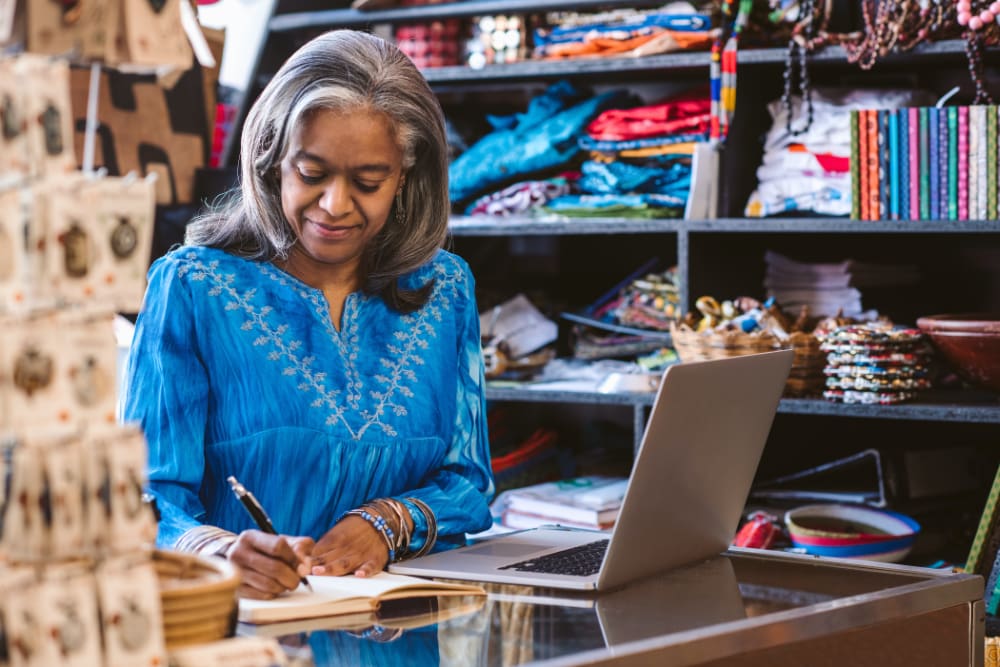 Can you rely on your POS system's features for all your inventory control?
15) Stock levels
Adding stock counts to products enables you to check for inventory discrepancies, track stock levels and view how much you have left of an item without having to check a stockroom first.
For retailers, that's an essential feature for managing stock and identifying issues. If you, for example, notice a high stock count for something there's none of, that can imply theft, or negative stock values (which some POS systems do not actually support) can imply mistakes at the checkout.
16) Stock alerts
Many POS systems send email alerts when you're out of stock or running low on a product. These may be standard email reminders, but advanced POS systems let you determine when these are sent to you (e.g. when you have less than 5 of a particular product, an email tells you this). If something is out of stock, a POS system may automatically hide this item at checkout, but that can sometimes be configured by you.
17) Supplier integration
Some retail POS systems include integrated supplier management. Such a system may allow you to look up or browse new products to order from a selection of suppliers, or let you register incoming stock deliveries on an order sheet complete with vendor information. You may have to manually enter supplier details that can be saved, or integrate with external software to import this information in your POS system.
Most POS systems do not have supplier management, but inventory-heavy stores would benefit a lot from connecting stock with suppliers in the same system.
18) Barcodes and product tracking
Products should be associated with a stock keeping unit (SKU) code for inventory tracking (unique to each retailer) and universal product code (UPC) for barcode scanning (same for all retailers). Advanced POS systems can have other codes associated with products – check that the codes you need can be recorded.
19) Product import
If your products – including details like options, price and product codes – are already saved in a digital spreadsheet/CSV file, these can often be imported into POS systems to automatically create your product library. This can save you heaps of time, as otherwise you need to manually enter all products into the new software. Suffice to say, product imports are especially important for large inventories.
20) Integration with ecommerce
Some POS systems offer out-of-the-box integration with one or more ecommerce platforms, meaning sales and products libraries can be synced across sales channels. That is, in-store and online sales can be linked to the same inventory library, prices and sales reports, or separated depending on settings.
Not all POS systems can link up with ecommerce, though, and if they do, there might be limits to what exactly is synced. If you already have an online store you want to link to face-to-face sales, check with the POS provider if they have a way to connect them.
Employee management
21) User accounts and logins
With a team, you should be able to create separate user accounts for individual staff members so the system can record who was responsible for which sales. These should have passcodes to enter on a logged-out POS screen.
A secure POS system should also let you set whether to automatically log a user out after a short time (usually, you decide how many minutes) so someone who's not authorised to use the till cannot take over while staff are not there.
22) Admin account
An account holder can manage all settings, make changes to the POS subscription and access all data available in the POS system. This kind of account is called an admin (or administrator). Some systems allow you to have more than one admin so you can share management responsibilities and still track actions associated with an individual administrator.
23) Employee permissions
User accounts that are not admins generally have limited permissions in the POS software anyway, but not all till systems allow you to personalise the exact things a user is allowed to do. Some POS systems have a long list of permissions, for instance whether a user can perform refunds, sell certain items or what sales data is accessible in the app.
It's common to have a particular combination of permissions categorised as Sales Assistant, Shop Manager etc. which you may be able to adjust according to your shop's rules, but not all systems allow individualised permissions without such a group label.
24) Staff reports
A smart thing about user accounts is the ability to analyse sales and activities of specific team members. Not all POS systems allow you to distinguish between employees in the analytics, so that is something to consider. Individual transactions should, however, be stamped with the username or location of the transaction so you can see who performed which sale.
25) Timesheets and wages
Instead of using a special software system for employee management, a POS system's timesheet feature is a great way to manage work shifts and upcoming wages – if it has this feature. With timesheets, you may be able to see (from the backend) who has clocked into the till on which days and when they clock out at the end of a shift. If you're able to record hourly pay or payroll in any way, it helps you budget for the payslips as well.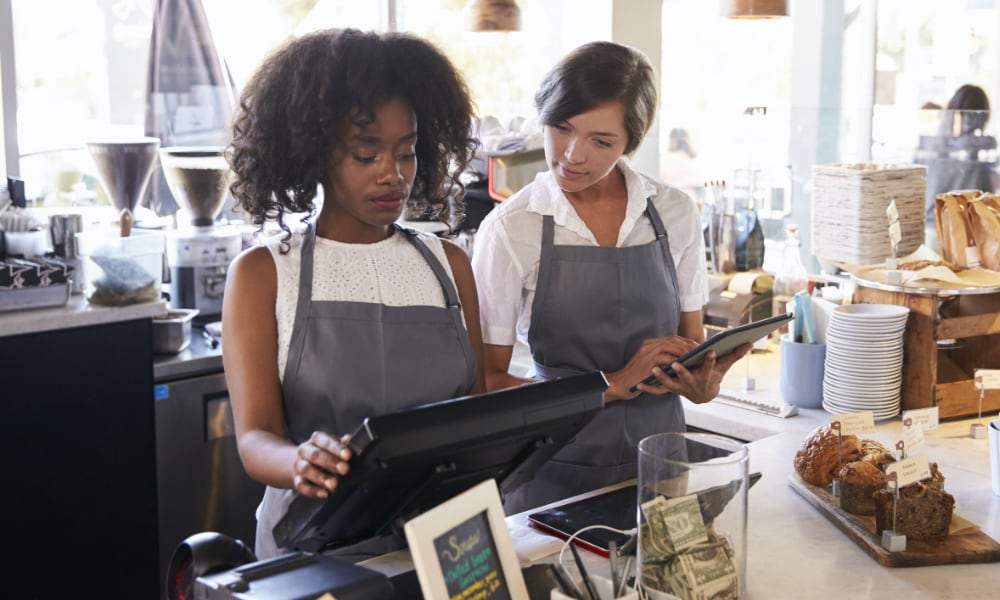 Some POS systems have a training mode for practising using the till.
26) Training mode
Some POS systems have a training mode that – when switched on – lets new staff members practise putting through transactions on the till without actually processing sales in the system. Training mode is purely to learn how to use the system without the risk of mistakes happening as you perform actions for the first time. When you switch it back to live mode, the interface will resume registering the things processed from that point onwards.
Customer management and loyalty functions
27) Customer profiles
Most POS systems include the option to create customer profiles. This is where you record details such as name, address, email address, phone number and date of birth of customers. The use of a customer library is three-fold:
Practical – storing personal details in the POS system makes it easier to manage orders and repeat payments (if card details can be stored)
Analytical – attaching a customer to transactions enables you to analyse, thereby anticipate, customer behaviours
Loyalty – customer profiles enable you to reward individuals through loyalty schemes and personalised offers
At checkout, you should have the option to create or attach a customer profile to each transaction.
28) Customer analytics
If you can attach transactions to customer profiles, the rate of returning customers can be analysed too. Repeat customers can also be looked at individually, e.g. what products they tend to purchase at which times, so you can focus interactions with that person on what's really relevant for them.
29) Personalised offers and perks
Personalised loyalty features could involve loyalty points to redeem on a reward, e.g. get the 9th coffee free, or individual perks relevant to the person's purchase history. Often, you can integrate with additional customer loyalty tools from external platforms.
30) Integration with online marketing
Multichannel businesses can benefit if customer management is integrated across platforms, i.e. customers have both their online and in-store purchases recorded under their profile. If the POS system integrates with online marketing tools, you can then send tailored emails to customers that takes into account the entire purchase history across platforms.
31) Issuing store credit
Some POS systems can issue store credits if you're not keen to provide a refund. This is basically a voucher that can be redeemed at a later date. Issuing store credits is not a given in till systems, so check for this when you browse POS options.
Reports, analytics and accounting
32) Daily sales reports
In retail, you might be used to the terms X report for a check-in sales report any time, and Z report for an end-of-day sales record that finalises the trading day.
The latter may simply be called "daily sales report" in till software, and they are a must-have feature of any POS system. These can usually be emailed or printed for your records, but officially resetting sales totals is irrelevant if the POS system automatically starts a new daily report the next day.
In today's cloud-based POS systems, you don't actually "generate" reports, as sales should always be accessible real-time through the POS app or back-office account.
33) Exportable reports (Excel, CSV)
Sales reports can usually be exported to Excel or other software through an "export to CSV file" function. This allows you to save the data on your hard drive or import it in accounting software. A few (not many) POS systems don't provide this important feature as default, so make sure to check this if you're going for a low-cost solution.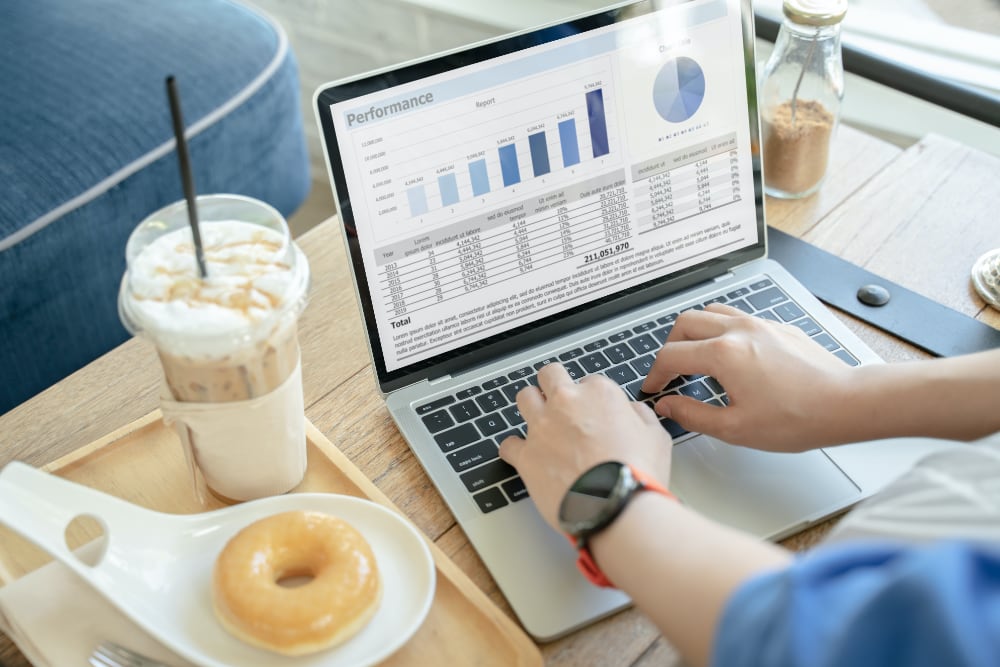 Commonly, you can access a POS system's sales data from any internet browser.
34) Sales analytics
Cloud POS systems often boast about their "growth analytics", but in all truthfulness, all POS systems today include some form of sales analytics informing you of potential growth areas. Such data may be displayed as an overview in your account dashboard, or accessed in a dedicated analytics section where you filter the data.
As a minimum, you should be able to filter by payment method, see a weekly or monthly overview of sales and filter sales by dates. With a product library, you can usually view bestselling products and analyse popular sales categories.
More advanced analytics may allow you to analyse product sales at specific times during the day, identify high-performing staff members, select several search filters to zoom in on particular areas where you can put more resources into selling, and much more.
35) Custom reports
A POS system may allow you to customise reports in great detail rather than rely on simpler, filtered analytics. Often, custom reports are only available on more premium POS plans, but lower-cost POS systems may allow the simple freedom to generate a "custom" sales report for a particular date range.
36) VAT and taxes
POS systems should enable you to set a tax amount included in the product price. It is typically the case that you decide in settings whether to display the tax information at checkout and on receipts (highly recommended).
37) Integration with accounting systems
Many businesses use dedicated cloud accounting software like Xero or Zoho Books. Most POS systems can integrate with the most popular accounting platform(s), while it is more difficult to find POS systems compatible with lesser-known accounting tools.
Location management
38) Cash register management
A POS system should allow a cash drawer to be "opened" at the start of each trading day and "closed" at the end of it. This typically involves entering the cash float amount at the start of the day (after counting the cash) and confirming the cash amount in the till at the end of the day (after counting and putting money aside for banking). In between those times, the till is classed as open until you officially perform the cashing-up.
These cash register shifts are specific to the till and thus require a distinction between various cash registers. Many POS systems charge you per POS register in use, so support for multiple tills is something to look for on a POS plan.
39) Multi-location management
Multi-location businesses may need a POS system to distinguish between inventory, sales, tills, employees and other aspects in the different shop locations. The higher your sales volume and larger your inventory volume, the more important this is to avoid complications. You often pay a higher price for POS support of multiple store locations.
40) Stock transfers
Retailers may need to transfer stock to another store if a customer requires an out-of-stock item in the other store. Such orders can be processed, complete with an order note, in some POS systems. The software needs to support multiple locations, but not all multi-location POS systems can separate the different stock levels of the same item in different locations.
41) Location-based analytics
With multi-location support, you should be able to analyse sales in each of your stores separately. Conversely, you should be able to see totals of all sales across the business if required. The more advanced these reports are, the more location-specific details you can analyse from the backend.
Hardware and internet
42) Operating system compatibility
What is the software compatible with? Most of the best till systems today are compatible with iPad (sometimes with no other choice), but many also work on Android tablets, purpose-built touchscreen monitors, perhaps even on iPhone or an Android smartphone. The POS interface almost always requires a touchscreen, unless you opt for a system that allows mouse clicks on a conventional computer.
Backend features – often referred to as Dashboard or Back Office – can be accessed in any browser, whether on a computer, tablet or phone. POS systems may also have a special app for real-time analytics, inventory management or other admin functions.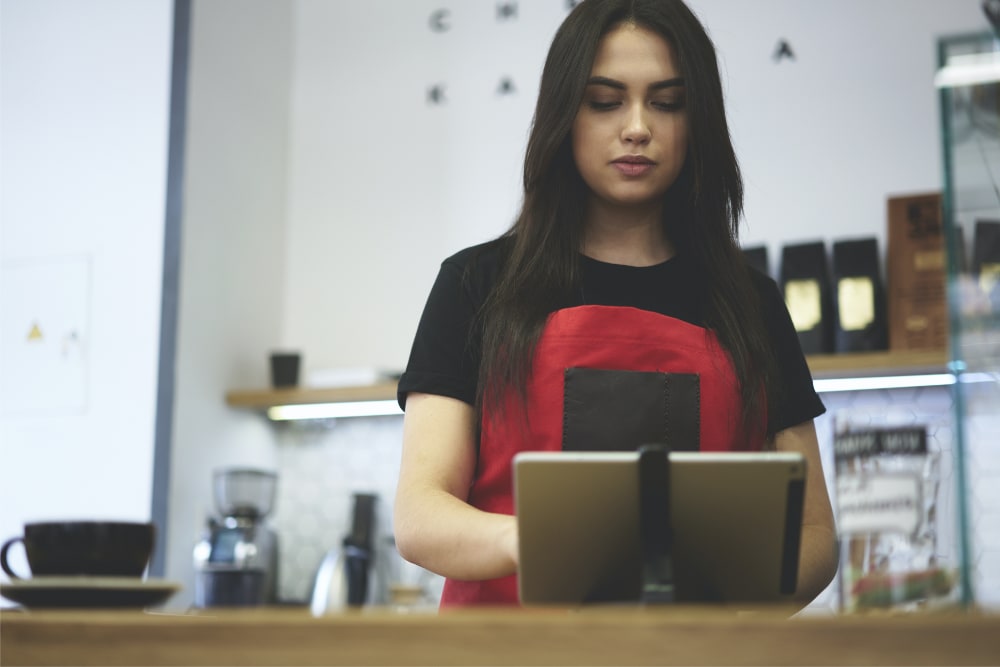 Small-business POS software is nearly always compatible with iPad, less commonly with Android tablets.
43) Other point of sale equipment
Barcode scanner, cash drawer, receipt printer, kitchen printer, customer-facing display… these don't work with the software unless they are compatible in the first place.
If you're planning on having a specific hardware setup, check that it is supported. If you already have equipment to use, check that the make and particular model number are supported before committing to a software solution – you'd be surprised to learn how limited a range of compatible hardware can be.
44) Offline mode
Software that is 100% cloud-based does not work offline, so if your internet is patchy, either choose a POS system that is hybrid (i.e. works both online and offline) or make sure your internet is reliable. Not all POS systems have an offline mode, or even advertise it when they do, but you can ask the provider directly if unsure.
Restaurant POS features
45) Table management
All hospitality EPOS should have a way to attach food orders to individuals, and table plans are the usual way to do this. A table plan in a POS system is a visual map of the tables and seating in your establishment. In fact, many restaurant POS systems can't start a new bill without attaching it to a table so waiters know who the food is intended for.
All sorts of information can be attached to each table order, such as number of people sitting there, food allergies, timing of courses, and so on. You may even see a timer saying how long the current customer has sat there for. Advanced POS systems may be able to take table reservations attached to the floor plan.
46) Communication with kitchen, bar and other tills
Rather than shouting orders to the kitchen as they are made on the floor, POS systems for restaurants usually integrate with a kitchen printer that prints each order as they are accepted, or a digital display to show the orders. This way, the kitchen is constantly updated in real time of what to prepare next. With multiple tills, e.g. one in the bar and one at a front desk, a busy restaurant can be set up to deal with only certain things at each till point.
47) Takeaway, pickup, delivery and eat-in options
If you offer takeaway, eat-in, pickups or deliveries, you should check that the POS system can differentiate between them. Most hospitality systems do, but there may be differences in how deliveries and pickups are processed or whether an automatic price reduction is applied to takeaway orders compared to eat-in.
48) Menus and courses
All restaurant POS should be able to set up menus (e.g. Breakfast, Lunch, Dinner) to display on the POS screen. These are composed by individual meal items (e.g. Halloumi Burger, Caesar Salad, Sparkling Mineral Water). You should also be able to organise food items into courses (e.g. Starters, Mains, Sides, Desserts) to help the kitchen and waiters with timings.
49) Ingredient-tracking
Some restaurant POS systems can track the amount of ingredients used based on customer purchases. Setting this up takes time, as you have to initially record how much of each ingredient is in particular meals, but it provides an accurate way to estimate when to order new ingredients and what food and drinks are available to order during the day.
50) Tipping and service charge
Tipping is a voluntary amount that may be added directly on a card terminal or entered on the POS screen. Tips are a common feature in most POS systems for hospitality, while service charges are a bit rarer. Some till systems allow you to add a compulsory or voluntary service charge (you decide the % or £ amount) to each food order. Note that with voluntary service charges, you have to be able to remove it from the payment total if the customer refuses to pay it.
This article originally showed up here: https://www.mobiletransaction.org/pos-system-features-list/